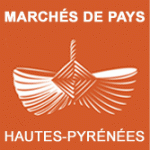 A local  market is characterized by the know-how of farmers and craftsmen. It is the encounter with the terroir. It is the ideal privileged place that allows the exchange between the producer and the consumer. Here in Vic Bigorre, but in the Hautes Pyrenees in general, you will discover the great diversity of gastronomy of the South West.
La Maison d'Anaïs is proud to provide its services to producers who are passionate about their craft while respecting the rhythm of nature.
The Incontournables that make the reputation of our region:
Tarbais beans.
The Black Pig Gascon.
Pyrenean cheese
The Trébons onion
The duck fat and foie gras ….
The strengths of these markets: Direct sales and the authenticity of products prepared from local know-how. You will find food products but also objects from the local craftsman. In Vic en Bigorre, professional producers develop with passion the specificity of the terroir. They are committed to a "quality approach" which values ​​and ensures quality and traceability of products.
Every Saturday morning, in Vic en Bigorre, come and meet farmers.
Shops in town
Vic en Bigorre is endowed with small craft shops which also claim a know-how and an authenticity of the products. Bakers, butchers, pastry cooks, caterers, wine merchants … They animate the city and professionally value the terroir.